Artwork
Born March 25,1964 in Brooklyn NEW YORK, My name is Darrell Urban Black, an American visual artist presently living in Frankfurt, Germany. I work in a variety of formats that include Pen and Ink drawings acrylic paintings on canvas wood and Mixed media objects. My creative process is a mixture of works on paper, acrylic paint, found objects and non toxic hot glue my technique creates a three-dimensional effect on any surface that gives a sense of realism and presence in my artwork. I refer to this optical artistic illusion as ''Definism'' in my opinion, Definism, portray various differences in human nature from life's everyday dramas to humankind's quest to under-standing self. My artworks transport viewers from the doldrums of their daily reality to a visual interpretation of another reality.
Visual Artist Darrell Urban Black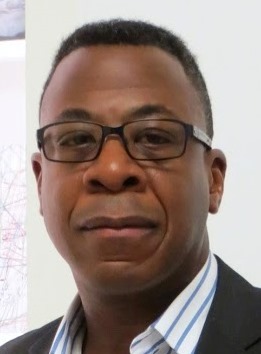 Darrell Urban Black born in Brooklyn, New York, I grew up in Far Rockaway, New York. In high school, I excelled in science with an affinity for outer space. In June 1969, as America fulfilled J. F. Kennedy's dream to put the American Stars and Stripes into the dusty surface of the moon My fascination with spaceships grew. As a child I made spaceship models eventually placing my artistic visions on paper resulting in some 500 drawings. Phantasmal spaceships eventually carried me to unique wonderland of strange forms and colors.

In 1982, I joined the National Guard. During this time my previous drawings were lost – but not my passion. In 1988, I joined the army and served another four years. I earned my Bachelor Degree in Science of Criminal Justice Administration at the University of Phoenix. In April 2001, I was nominated by the German government as a "candidate of the year's prize for promising young artists" for my artwork titled "The Invasion" in the exhibition "The Zeppelin in Art, Design, and Advertisement", shown between May and July 30, 2000, in the Frankfurt International Airport . Another piece referenced in the nomination letter, was titled "The Cosmic Linen", executed with a unique glue and acrylic on linen technique. The image was described as "universally appealing and representing a topic which concerns all of us – the universe". I had many local, national and international group art exhibitions. I have artwork permanently displayed in a number of art galleries, museums and other institutions in America and Germany. My artwork has been displayed in Veteran Art Shows including one at Intel® Corporation in 2014.

I live in Frankfurt, Germany and continues to draw and paint in pursuit of my artistic dreams. I'm a member of the Veteran Artist Program abroad (EuroVAP).




The Artist: Darrell Urban Black

Biography:

Solo Exhibition: Art of Definism

2017 Frankfurter Kuenstler Club

Group Exhibitions:

2019 Islip Museum book about death

2019 Rokeby Museum

2016 Ohne Limits Frankfurter Kuenstler club

2016 Library 21c gallery

2016 Broadmoor Resort

2016 Our American Heroes Pkes Peak Center in Colorado Springs, CO

2015 SCOPE Art Miami Art Basel Week

2015 Exposure Award Reception and artwork display at the Louvre Museum Paris.

2014 War comes home Art exhibition San Diego Public Library


2014 SeeMe Takes Over Times Square 46th street and Broadway

2014 SeeMe Art takes Miami

2013 The Story of the Creative event at the Angel Orensanz Foundation

2013 Intel Corporation Art show USA

2011 MacMillan Arts Center Gallery, Parksville, BC, Canada

2011 Art Gallery of Swift Current, Swift Current, Saskatchewan, Canada

2011 Washington State University Gallery 2 Serve and Protect Group show

2011 SIENA ART INSTITUTE Drawing Connections

2011 Clermont College Art Gallery, University of Cincinatti, Batavia, OH.

2011 Celebration of Queen Elizabeth II Diamond Jubilee Corinium Museum Gloucestershire UK,

2011 Viva Las Vegas Gamma Gamma Gallery, Las Vegas, NV, SACS, Comune di Quiliano, Italia

2011 The International Museum of Collage, Assemblage and Construction

2011 Museum Obere Saline - Bismarck Museum

2010 Hovinkartano International Arts and Cultural Center Finland

2010 Island Mountain Arts Public Gallery, Wells, BC, Canada,

2010 Hampden Gallery Boston

2010 MacKenzie Art Gallery Canada

2010 Library of the Stedelijk van Abbemuseum, Netherlands

2010 Armory center for the arts

2010 Barrique,Susan and John Caldwell Gallery

2010 The National Gallery of Writing, Pontificia Universidad Cat�lica de Valpara�


2009 Venezia Mestre, Spazio espositivo

2009 Bologna, N.3 Gallery

2009 Galleria Terre Rare

2009 Modern Art Center (ARS-Forum), Yaroslavl

2009 The John F. Kennedy Center for the Performing Arts Washington, DC

2009 Museu da ciencia da Universidade de Coimbra (Portugal)

2009 Museu Brasileiro da Escultura (Brazil)

2009 The A.S.Popov Central Museum of Communications

2009 Havana Gallery

2009 Rise & Fall: 11.9.89 20th anniversary of the fall of the Berlin Wall 11 city artwork tour within the USA German Missions
in the United States to commemorate: The fall of the Berlin wall


2008 Penticton Art Gallery

2008 Comox Valley Art Gallery

2008 Wignall Museum

2008 Spazio Arte Contemporanea Sperimentale

2008 BAU Cultural Association, Embassy of Venice - THE REPUBLIC OF ARTISTS

2008 The Utopian Library

2008 Postcard Art Connection Smithsonian National Postal Museum

2008 Municipal Art gallery of Neas Ionias in Volos, Museum G.I. Katsigra - Larissa

2008 Jukeboxes and Rock-and-Roll, Florean Museum Hall, Romania

2008 Picasso Gallery and Modesto Art Museum, Modesto CA

2008 Photoportraits Gallery Manchester, UK, Architecture and Interior design CAMERAderie, Photoportraits

2008 Art 101 gallery, Sticker universe, New York


2007 Project Medusa, Emergence Project
2007 Sao Paulo Art Center, Sao Paulo, Brasil
2007 International Art Biennale, Elassona, Greece
2007 The Drawing Center, New York NY
2007 Contemporaneo Versiliese,Palazzo Paolina Viareggio, Italy
2007 C'Art Gallery Red and Green Huddersfield Art Gallery, England
2007 Gemarimba Art Gallery Kuala Lumpur, Malaysia
2007 Yoshar-Ola Museum of fine arts (Sputnik)
2007 ATTAC-Minden (Move against G8)
2007 World of jazz, Convocatoria El mundo del Jazz
2007 Recollection from 1987 to 2007, Museum of Fine Arts, Budapest
2007 The Bicycle, Galleria d'arte Atrebates Dozza, Province, I Like bike, Centro Commerciale Centrolame, Bologna, Italy
2007 Immigration, Art Vitam Gallery, Miami Beach, FL USA

2006 400 Years of Don Quixote, International School of Logrono, Spain
2006 Art and Design, Galeri Seni Mara University Malaysia
2006 Woman's Desire and Passion, Room with a view Shanghai
2006 Psychedelic, Consulate of Culture Society Greece
2006 Clarity - Obscurity, The Cultural Center L'atrium, France
2006 The Art of Translation, The Center for Translation Studies,Dallas
2006 Windows and Doors, Sisters on Sojourn California
2006 Stopped Optional, Associazione Culturale Milano
2006 My favourite artist, Corrine Woodman Gallery Corvallis, OR
2006 Dream City, The Consulate of Culture Society Greece
2006 By the river, Kulturhaus Pusdorf, Germany
2006 IRAQ WAR, Seven Stories Institute New Jersey
2006 Death Penalty Art Show, Texas Moratorium Network, Texas
2006 Breast Cancer Art Show, Foothill College Los Altos, CA
2006 Beer - Cerveza, Puebla Art Expo, Mexico
2006 Shadows in Fairytales, Visac Art Center, Canada
2006 Christian Art Festival, Gracies Cafe Art Gallery Des Moines, WS
2006 Portraits, Bahariye Sanat Gallery Istanbul, Turkey
2006 Wealth and Poverty, Creativa International Italy
2006 World Peace Art Show, World Peace Forum Vancouver, Canada

2005 World Peace Art Show, World Peace Forum Vancouver, Canada
2005 God is a Tree- not A.T.V. , Raz Art Australia
2005 Festivache 2006, Musee de vervins France
2005 Service Culturel de la Ville Argentan Unitarian Congregation of Princeton, New Jersey
2005 Gates Art Project, ARC Gallery Chicago
2005 Gates Art Project, Fort Mason Center San Francisco
2005 Why Project, Musa Heritage Gallery Cameroon
2005 Symbols of your own, Kunstler haus 19 Berlin Germany
2005 Contemporary Art, Itami City Museum of Art Japan
2005 Science Visualization Challenge, National Science Foundation, Arlington, VA
2005 City Gallery East, Atlanta,GA
2005 Postcard Art Show, Brampton Artway, Canada
2005 Masters of Mystery, International University, Florida

2004 Olympic Thought, Frankfurt Airport, Frankfurt / Main

2000 Zeppelin Airships, Frankfurt Airport, Frankfurt / Main

1999 Views from Abroad, Frankfurt Airport, Frankfurt / Main

1998 Definism Art, Bosenplatz, Frankfurt / Main

1997 Works on paper, USO, Frankfurt / Main


Artwork Auctions:

2006 WVPT Studios TV Auction
2006 WKAR- StudiosTV Auction
2006 WPBS- StudiosTV Auction
2006 West Vallery Art Museum AZ,
2006 River Gallery School Art Auction
2006 Pen & Ink Drawing, Flux Factory, New York
2006 Pen & Ink Drawing, Association of Social Workers, Halifax Nova Scotia
2006 Pen & Ink Drawing, American Phytopathological Society, USA
2006 Pen & Ink Drawing, IGIVEUP, USA
2003 Pen & Ink Drawing, S.U.F.K.S., Boston / 1000 USD
2000 2000: Pen & Ink Drawing, Icross, Ireland / 1200 Pds



Artworks in permanent collection:

The Invasion, Zeppelin Museum, Frankfurt / Main

Art Consultant, Corporate Artworks, Schaumburg / USA

Our Police / Prevent Crime, Police History Museum, Berlin / Germany

The Berlin Mail Artist Lexicon, Kunstbibliothek der staatlichen, Berlin / Germany

The Berlin Mail Artist Lexicon, Museen zu Berlin, Berlin / Germany

Archives of the Lviv Museum Art Collection, archives of the Marcelland

International Art Collection, Florean Museum Art Collection

Modesto Museum Art Collection

Carmelite Monastery Quidenham, Norfolk UK,

Judith A. Hoffberg archive library, University of California Santa Barbara,

Van Abbemuseum Netherlands,

Ontological Museum Pagosa Springs, CO

Artist Literature:

The Ekphrastic review

Serving house journal

Artist showcase Kd outsiderart

indiana voice journal

aaduna.org

Invisible culture Journal for visual culture issue 27

Wax Poetry and Art

GFT Press

Beechwood Review Literary and Art Journal

Gnarled Oak Literary Literary and Art Journal

Visual Artistry Magazine

Syndic Literary and Art Magazine

Change Seven Magazine Literary and Art Journal

The Furious Gazelle Literary and Art Journal

Lunaris Review Literary and Art Journal

Stonecoast review issue 6

Potluck Magazine Oct 2016

The Portraiture Collection Art book

Black Art in America

Artradio TV online

Askart 2003 The Artist Blue Book Lonnie Dunbier

Dreams Alive Spring Magazine Edition 2004

Green Dove Spring Magazine Edition 2005

CSA Press SAM Cristian Aluas

ARTEFUSE New York Magazine

Culture Vixen Magazine

NY ARTS Summer Magazine Edition 2006, Ash'e Art Book edition 2007,

Irr flug nach Las Piedras, Publisher Edition Signatnur,

International Fine Arts Journal,

KULTURpur.de,

Magazine COOL

Pomerado news art show

Military experience and the arts As You Were: The Military Review, Vol. 3



Website http://definism.wix.com/1964

http://self.gutenberg.org/articles/List_of_African-American_visual_artists

https://ivc.lib.rochester.edu/tag/darrell-black/

https://www.artslant.com/global/artists/show/102563-darrell-black?tab=PROFILE

http://www.drawingcenter.org/viewingprogram/portfolio175e.html?pf=1538


https://kdoutsiderart.com/2017/11/08/artist-showcase-darrell-black/


https://en.m.wikipedia.org/wiki/List_of_African-American_visual_artists
http://www.askart.com/artist/Darrell_Urban_Black/120782/Darrell_Urban_Black.aspx
http://potluckmag.com/october-2016

http://nonbinaryreview.com/archive-2/issue-20-the-words-of-h-g-wells/
http://waxpoetryart.com/international/2016/black.html
https://www.deviantart.com/definism/art/Artist-Darrell-Urban-Black-pos-2-656213283
https://www.artlyst.com/news/portrait-of-a-new-york-artist-darrell-u-black/
https://medium.com/the-scene-heard/a-really-bad-trip-3917381a95d7
https://burningword.com/2019/07/darrell-urban-black/
http://aaduna.org/spring2017/galleries/the-penalver-gallery/
http://www.inteartist.com/darrell-black.html
https://cargoliterary.com/issue-13-cover-art/
http://www.askart.com/artist/Darrell_Urban_Black/120782/Darrell_Urban_Black.aspx
https://thefuriousgazelle.com/2016/03/11/dance-of-the-ogre/
http://artistsinspireartists.com/painting/darrell-urban-blacks-world-of-strange-forms-and-colors
http://willawawjournal.com/darrell-urban-black-4/
https://changesevenmag.com/five-paintings-by-darrell-urban-black/


http://www.arthivemagazine.com/the-blog/2018/7/3/artist-spotlight-darrell-urban-black
https://www.artqol.com/post/darrell-black-invokes-emotion-with-a-message
http://www.artradio.tv/best-art-of-the-day-21-08-2014/
https://enacademic.com/dic.nsf/enwiki/84799
https://issuu.com/peripheral.arteries.mag/docs/biennial.edition.ii/92

http://www.artradio.tv/best-art-of-the-day-21-08-2014/

http://nonbinaryreview.com/archive-2/issue-20-the-words-of-h-g-wells/

https://www.youtube.com/watch?v=8OADNuJIhkE

https://fineartamerica.com/profiles/darrell-black?tab=blog is is the section about me.